Unless something semi-miraculous happens in the next month, this will be the first Summer I can remember where I didn't visit a drive-in theatre.
Once a warm weather fixture of every good-sized town, there isn't a surviving drive-in within a day's drive of me now. And with fewer than 500 anywhere in the world and only 53 left in Canada, that's unhappily true for most of us.
Yeah, there are Summer movies in the park in a lot of places, but given the civic bureaucracy attached to most ensuring the films are family friendly, nobody sneaks in a flask and we're all sent home at a respectable hour –- well, it just isn't the same thing.
It's also hard to imagine any insurance wary and nanny lobbied community that would program a dusk to dawn Biker-flick or gore-fest, let alone a demo bending double feature like this…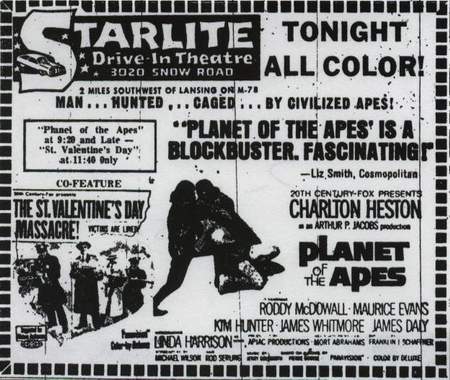 No, the culture has definitely been diminished. And with all theatres having to switch to prohibitively costly digital projection by next year, things do not look rosy for those of us who delight in watching a movie either under the stars or through a steamy windshield.
And yet –- there's still hope…
Enter Honda, with a plan called "Project Drive-In" which will donate digital projectors outright to five theatres chosen by online ballots while at the same time raising money to buy new projectors for many more.
According to Honda's Manager of Social Marketing Alicia Jones, "Cars and drive-in theaters go hand-in-hand, and it's our mission to save this decades-old slice of Americana that holds such nostalgia for so many of us".
To participate, and maybe save your own last remaining local drive-in, visit "Project Drive-In" here. With some luck, those dancing hotdogs and sodas will continue to parade across outdoor screens for generations to come.
Enjoy Your Sunday.