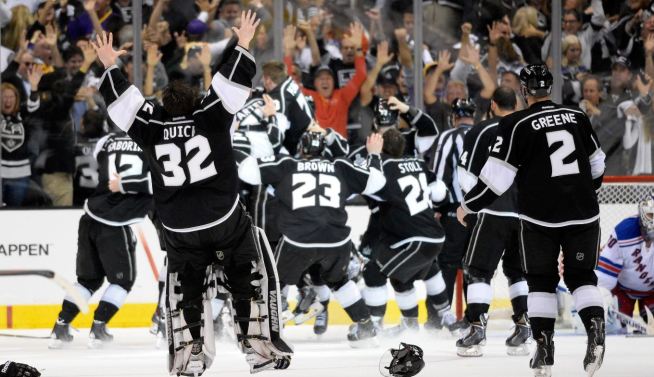 In the end it seemed inevitable. Yet, for most of a magnificently played double overtime game, it was anybody's to win.
Congratulations LA! New York, as your goalie aptly stated, from the beginning you knew it would end in tears. But you still played your hearts out. It's all any of us could have asked.
The other inevitable from last night was (the far from evil in reality) Will Pascoe tying another Infamous Writers Hockey Pool scalp to his belt. What is that, three now?
I got dibs on taking this guy to Vegas next season – where, in an odd coincidence, some of us might have noticed what the smart money was thinking several months ago…
Second place goes to Jon Brooks, who came up just a couple of skaters short once we hit the finals.
Maurey Loeffler, another former Pool champ, takes third AND the "Props" contest. Maybe this guy oughta be on that Vegas trip too.
I'll be in touch with all the winners over the next couple of days and Will's address will be passed on to all poolies, so the booty of their choosing can be delivered to him.
The Legion will take care of rewarding our 2nd and 3rd Place finishers and the Props winner.
And then the 2013- 2014 Season will be a wrap.
I hope you all had fun and the Pool added a little something to your enjoyment of what's already the best Championship series in professional sport.
And for those hungry to redeem themselves, the Infamous Writers Hockey Pool will be back for an Ninth Season next April, hopefully with more Canadian teams in the hunt for the Cup.
Have a great Summer. Training camps open in about a month…
THE FINAL STANDINGS: